Physical Structure of Puponnière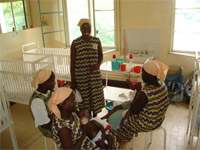 The Pouponnière consists mainly of a three-stored building:
On the ground floor are the general services.
On the first floor there are children from 4 to 12 months in rooms installed. There are five rooms, each with space for eight cribs, resulting in a capacity of 40 babies.
On the second floor are the babies from 0 to 4 months, making a total of 86 babies.
It also has a playroom, a bathroom, a dining room and a WC.

To keep these home and help these babies WE NEED YOUR HELP AND COLLABORATION to pay staff, maintain the house (water, electricity, gas), food for babies, pharmaceuticals and other necessary expenses.
They are currently present in America
America
Africa
Asia
Australia
Europe